Online
15:20 a 15:40 H – Obtención de acceso a evidencias digitales y desbloqueo de cifrado de datos con las herramientas de ElcomSoft. 09:55 a 10:15 H – Escenario hipotético de investigación digital con las herramientas de ElcomSoft.
Computer Science Fair in Spain (Fife'20), Online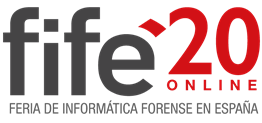 OnRetrieval organizes the third edition of the Forensic Informatics Fair in Spain (fife'20) November 25, 2020. Fife is a highly prestigious fair attended by the main representatives of the Security Forces of Spain. Fife'20 will bring together the most important manufacturers of Digital Forensics tools in the world, who will present the latest trends and innovations in their products in the online conference room and online room for practical demonstrations.